NZ Weighbridges - Truck Scales - Axle Weighers
Scaletec is a New Zealand supplier of NZ Built and imported Trade Approved Weighbridges, axle weighers & Weighbridge Software offering full Weighbridge Calibration, Service and Repair.

There are 4 different types of weighbridge please click on links below: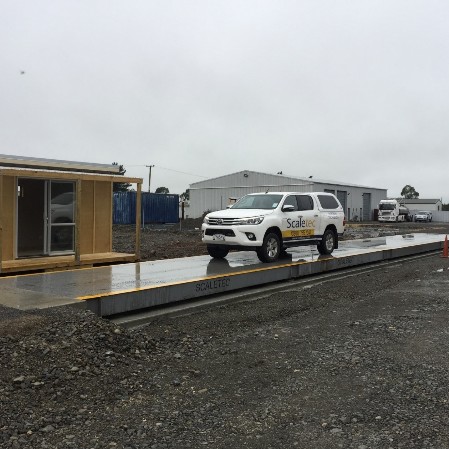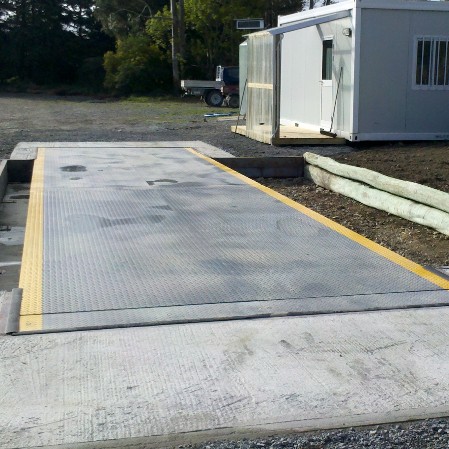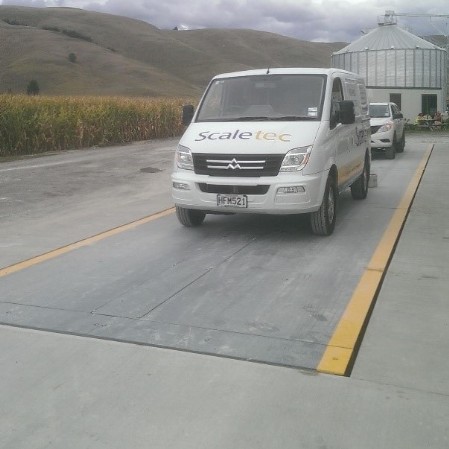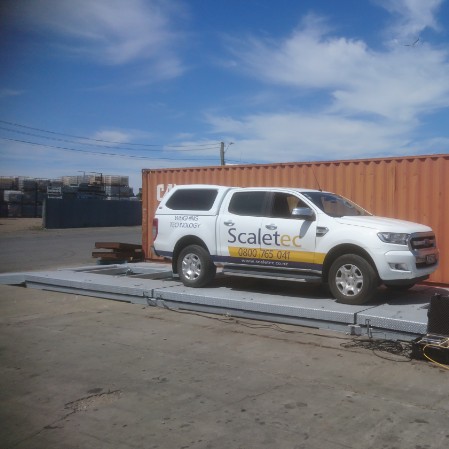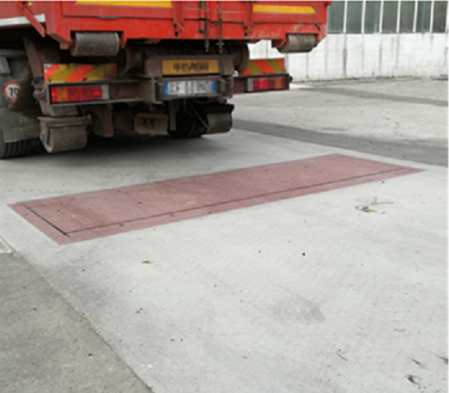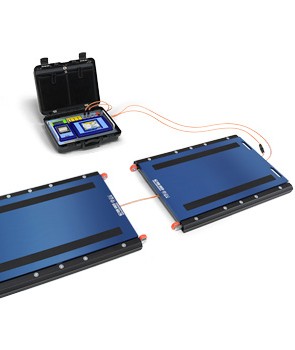 Which weighbridge?
With so many options out there it is hard to know which one suits you best, of course we are here to help but below a bit of a guide with few pros and cons:
Ensure your scale is large enough for your requirements, plan your truck scale needs based on the largest truck you ever plan to weigh. This should include future needs as well as many weighbridges are in service for 20+years

The space available, your weighing application and your long-term needs.

A

portable vehicle scale

is an option if your weighing needs are not long term or if it would be useful to be able to move the weighbridge to various locations.


Trade use or enforcement control
Above Ground V In Pit Weighbridge Installations
In Ground
-
These weighbridges are installed in a pit, keeping them flush to the road surface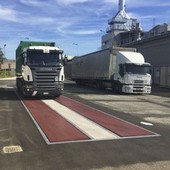 Uses less space

Flush to ground reducing site hazard

More Expensive civil cost to install

Pit can build up with Debris

Drainage requirements typically solved with fitting a sump pump

Confined space for maintenance and cleaning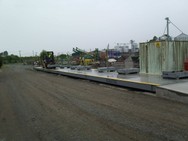 Aboved Ground
-
This type of weighbridge sits above of the road surface, and requires ramps on either end to allow the vehicles to access the platform
Need to allow more space for drive on off ramps

Can pick up wind interfearance in exposed sites

Easy to clean and maintain

May need side guide rails

Easy to relocate
Concrete Weighbridge V Steel Deck Weighbridge
Fast installation, and easy relocation and expansion

Lower profiles and variable deck plates available

Less initial cost and no need to wait for a concrete deck to cure

steel deck scale weighs less, making it easier to relocate and expand if needed.

95% of weighbridges installed in NZ are steel
longer life - Typically Five to seven years

More mass means less friction and wear

Better load distribution

Not readily relocatable

Longer install time - A

concrete deck

, which needs approximately 21 to 28 days to cure, is poured during installation and usually done by an outside contractor. Cured, factory-poured concrete decks may be damaged during transport and may have higher installation and transport costs due to the heavy weight of the concrete.
Types of Loadcell
Analogue load cells-
Analogue load cells are the most common solution. The output of analogue load cell is a continuous millivolt (mV) signal proportional to the applied load. Further processing and Analogue-to-Digital (A-to-D) conversion is done in the indicator. Analogue load cells can easily be paired with a variety of digital indicators across multiple brands. The load cells are further differentiated by design e.g. Compression, Shear-beam type
Digital load cells-
Unlike conventional analogue load cells, which rely on external wiring, junction boxes and A to D circuitry, digital cells typically use a RS285 signal back to the indicator meaning the signal is less effected unwanted electrical interference and can
be transferred more effectively over longer distances between load cells and the indicator.
Digital load cells allows faster initial calibration, as well as featuring built in diagnostic tools. BUT you can be tied to the one service provider for the life span of your weighbridge with little option around upgrading in the future.
However, the in-built electronics that offer these benefits makes these cells more costly as well as more complicated to repair. Despite A-to-D conversion inside the load cell itself, a digital indicator is still required for calibration, display and certification.
Load cell accuracy-
Keep in mind that accuracy of a load cell has no relation to it being analogue or digital, compression or shear-beam type. All of these can offer an accurate and dependable solution, provided the load cell fulfils the accuracy criteria as set by the relevant certifying bodies OIML R60
Look for stainless-steel loadcells with a verified IP rating which offers protection against the dirt and water that can build up under the weighbridge.

Scaletec SCS-M
Scaletec SCS-M

Steel Road Weighbridge - (Surface or Pit installation)
8mm + 2mm Checker Plate Deck, 8 x 6mm x 250mm U-Beams
Surface Treatment – Shot blasted followed by 2 coats of primer epoxy paint and one coat alkyd enamel finish paint
Four OIML approved Zemic BM14G Stainless Steel Compression Loadcells
Stainless steel junction box
Concentrated Load Capacity of 20000kg
Span deflection Ratio of 1 : 600
Optional Steel Ramps and Side Rails available

Approved for Trade use in New Zealand MCA1975
Requires Suitable Indicator for your requirements

NOT AVAILABLE AS ONLINE PURCHASE.
Price is indicative and gst excluded.
Please contact us for an updated, installed price and indicator options to suit your individual requirements
Immediate availability

Mild Steel - Galvanised option available
Robust construction using weighbridgedouble ended shearbeam load cells
Free floating deck can accommodate overhang for wider trailers
Steel Ramps, Easy set up and transportation
Sizes- Decks are 4m x 2.9m and are modular, so several decks can be joined together to form the required length of weighbridge.
Capacity - 30000kg for two decks Up to 60000kg for multi-deck configurations
Load cells - 4 x 10ton shearbeams per deck, IP68 Protection rating

Price Indicative Only please contact us for current pricing and indicator options
NZ trade approved Cert# 2167

NOT AVAILABLE AS ONLINE PURCHASE.
Price is indicative and gst excluded.
Please contact us for an updated, installed price and indicator options to suit your individual requirements
Limited availability


Innovative vehicle weighing dual track weighbridge, easily transportable and installable thanks to the reduced height and weight. Designed and built with vey high quality materials, this represents the most efficient solution for saving time, space, and money in comparison to the classic weighbridges currently available on the market. The standard version is fitted with CE-M 3000e APPROVAL, for legal for trade use.



TECHNICAL FEATURES

Precise and versatile platforms, suitable for all kinds of applications; ideal for modern industries, farms, work yards, landfills, ports, etc, in which one can save space or change the logistical stations.
Extremely compact: only 22 cm high. Takes up little space if installed on the street surface, reduced masonry if installed flush floor to the road surface.
The load capacity complies with the 96/53/EC Directive which defines the maximum axle load for the vehicles transiting in Europe (version for higher loads is available upon request).
Sturdy loading surface in striated sheet steel.
Sandblasting and varnishing with bi-component epoxy coating, highly resistant to corrosion.
Installable above, as well as flush floor to the street surface.
Reinforced on and off ramps, for mobile or fixed installation (optional).
Weight detection system through oscillating load bars (patented system) with integrated brake / acceleration compensating limits and anti-slip rubber resting plates.
Load cells protected from dust and water.
Fitted with approval, carried out in factory (to be combined with Dini Argeo indicator).
Dust and waterproof wirings and connections, easy to connect and disconnect.
Modularity: by adding or removing pairs of modules, the weighbridges can have these lengths: 4,5 m - 9 m - 13,5 m - 18 m - 22,5 (up to 36m by price estimate).
Wide range of connectable weight indicators, also functioning with rechargeable battery, which allow to use the weighbridge also without an electrical power supply.
30m long connection cable between DTW and indicators.

POA
NOT AVAILABLE AS ONLINE PURCHASE.
Please contact us for an updated, installed price and indicator options to suit your individual requirements

THE STRONGEST WEIGHBRIDGE ON EARTH

Available for above-ground or pit installations
• Top access to load cells and junction boxes
for easy installation and maintenance
• All load cell cable is run through
factory-installed metal conduit with
flex-conduit hub fittings from load cell
to provide ultimate protection
• Dimensioned to easily fit existing foundations
Capacity of Weighbridges:
60000kg x 20kg Dual deck or other custom capacity plus custom capacity
Length of Weighbridges:
24 meters or custom length as reqyuired

NOT AVAILABLE AS ONLINE PURCHASE.
Price is indicative and gst excluded.
Please contact us for an updated, installed price and indicator options to suit your individual requirements

Sturdy structure, made in special aluminium, which guarantees lightness and makes them suitable also for harsh working conditions.
Cable with quick connector, platform side.
10 m cable for connecting the platform to the indicator, complete with connectors.
IP68 stainless steel load cells.
Hermetic junction box with IP68 protection degree.
Special vulcanised nonslip rubber applied under the platform for good grip on all surfaces.
Very simple and reliable connection between platforms and weight indicator.
IP68 protection, with IP68 connectors and PUR cables as standard.
Wheels for the transport and the positioning (only for "WWSEKxx" kit)
WWS platforms are patented with the number 1.342.302.

POA
Limited availability

Portable Container weighing system using Dini Argeo Axle Pads or DTW weighbridge.
Total weight, centre of gravity control etc...

Price starting around $13995 depending on system requirements
NOT AVAILABLE AS ONLINE PURCHASE.
Price is indicative and gst excluded.
Please contact us for an updated, installed price and indicator options to suit your individual requirements

Running Shopping Cart Total