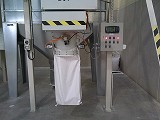 Weigh Bagger 50kg x 20g

Using the Rinstrum R420K410 weighing control indicator connected to a single point loadcell with hopper attached.
The R420 controls the in-feed gate course and fine setting to get the exact amount of product required for the bags into the weigh hopper.
The product is discharged from the hopper into the bag held below. Once the bag is full the bag clamp drops the bag ready for sewing.
Whilst the next bag is being put in place the next load is being weighed into the hopper. The hopper will not discharge until the bag position sensor recognises the bag is in position.

Using the recipe function the bagger could bag 5, 10, 15 and 25kg bags at the push of a button.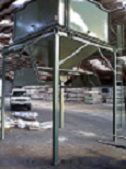 IBC Weigh/Bagger 5000kg

Using Zemic shear beam loadcells and the Rinstrum R420K411 to control the air ram jaw gates for course and fine feed of fertilizer into bulk bags of either 500kg or 1000kg from the 5000kg bulk hopper.
This system is so accurate it has been approved for trade use by the Ministry of Consumer affairs.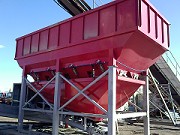 Aggregate / Cement Batching Hopper 12500kg

Using 2 x R320 indicators and Zemic 'S'Type 5000kg loadcells interfaced to a PLC and control panel, for control of Aggrigate type and quantity along with the correct amount of cement.
These Mixes pre programmed into PLC for ease of batching at the push of a button.
The conveyors and gates controled by weight data fed directly to the PLC.

Grading System Upgrade

Using BSW bases with XK3190-A12S indicators set at 30kg x 10g replacing 20 older existing scales on fruit grading system, which were starting to become unreliable.