Axle Weighers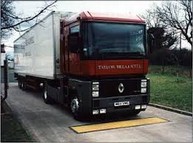 There are 2 types of axle weigher, static where the vehicle is positioned on pads and Dynamic where you drive over them at a slow, steady speed.
Using them is slightly different though, as you are weighing each axle separately, instead of the truck as a whole.
The cells then weigh each axle as it passes over to get a total weight. Not as accurate as a full size weighbridge but they serve a useful purpose around axle loading.
We service all makes and models of weighbridge offering the complete service and certification package, watever axle weigher you have we have the tools and experience to service, repair and certify them all! Nationally! Working closely with other companies such as South Weigh in Dunedin and Invercargill, Electrotech, and Atrax in the North Island.
Call 0800765041 for a competitive quote or email service@scaletec.co.nz